Der Liederabend im Konzerthaus Dortmund mit Simone Kermes und Roland Kaiser soll unter dem Motto »Berlin – Mailand – Hollywood« die diplomatischen Beziehungen zwischen E- und U-Musik verbessern. Man ist ratlos.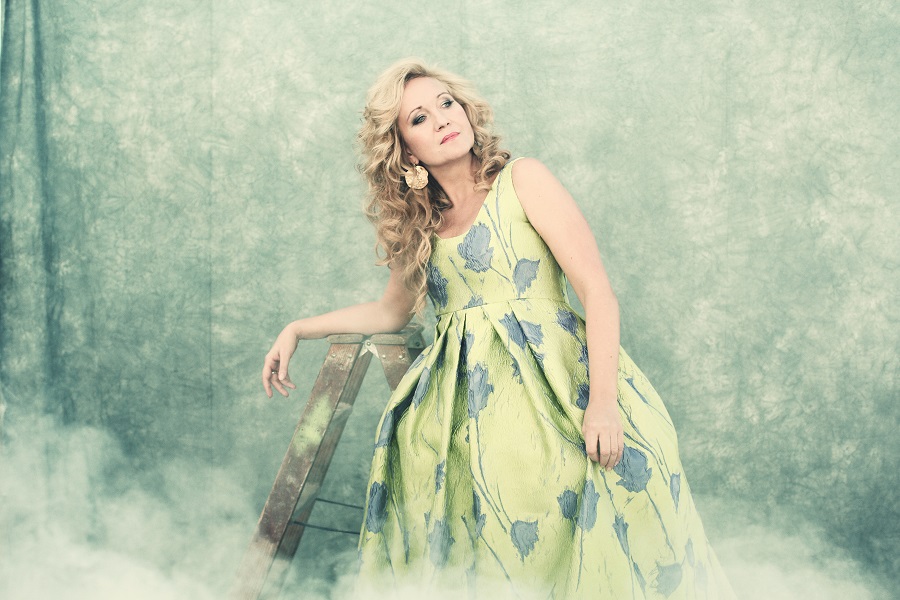 Die Sopranistin Simone Kermes (Foto: Sandra Ludewig)
Smoking, Lackschuh, das kleine Schwarze und Chanel No. 5 treffen auf Khaki-Hosen, Sandalen und Hawaiihemd, getränkt mit Grillabendluft. Ja, muffige Klischees, aber sie bewahrheiten sich manchmal. Im ersten Teil singt Simone Kermes Arien aus dem Barock und der romantischen Virtuosenmusik; wer aber keine Lust auf Klassik hat, so scheint es, der kommt eben erst nach der Pause ins Konzert. Im zweiten Teil folgt eine eigenwillige Dramaturgie vom deutschen Schlager, über die Filmmusik hin zur American Opera. Special Guest ist Roland Kaiser, Schlagergröße und Altmeister. Die Logik dahinter wirkt konstruiert: Weil Oper im Barock und bei Verdi unglaublich populär war, ist sie eben der Vorgänger von Hollywood und Schlager. Was im Publikum aufeinanderprallt, soll also im Konzert zwangsverheiratet werden.
Die Ouvertüre zu Händels Alcina rumpelt unrhythmisch los, schwurbelt sich in den Streicherpassagen zurecht, trottet dahin und droht auseinanderzufallen, verendet schließlich. Das bleibt während des gesamten Konzerts leider ähnlich, Dirigent Ekhart Wycik gibt sich Mühe, der etwas lustlosen Neue Philharmonie Westfalen Leben einzuhauchen, die zwar ab und zu aufwacht, aber nicht wirklich dabei ist.
Simone will Freiheit
Wenn aber die Kermes die Bühne betritt, dann ist Spannung im Raum. In der Arie Vedrá turbato il mare von Nicola Antonio Porpora tanzt sie zu den Orchesterritornellen, nimmt die Höhen leicht und metallisch-leuchtend, dirigiert wild dazwischen. Ihre Koloraturen sind nicht immer sauber, aber sie sind ein Statement. Keine bloße Verzierung, sondern Inhalt. Die Musik atmet durch Simone Kermes, und sie selbst bebt. Nach der ersten Arie spricht sie, ein sich wiederholender Vorfall, und skandiert: »Wir brauchen unsere Freiheit!«. Mit Verdi und Donizetti jagt eine Instrumentalrakete die nächste athletische Arie, dieser »Liederabend« versteckt eben nicht, dass er populär sein will. Kermes' Verdi und Donizetti klingen barockgefärbt, mit wenig Erdung im mittleren Register, dagegen mit luftiger Höhe und ohne schmierendes Vibrato – angenehm trocken. Wenn Simone Kermes singt, dann ruft es förmlich ironisch aus ihr: Sie weiß, was sie da tut.
Der Schlagersänger Roland Kaiser (Foto: Sandra Ludewig)
Willkommen im Schlagerstadel
Wo im Vorfeld krampfhaft nach Verbindungslinien zwischen Oper und Schlager gesucht wurde, fragt man sich bei der offensichtlichen Trennung: wozu. Es folgt ein nun völlig neues Szenario im zweiten Teil, das an die dunklen Zeiten der Dieter-Thomas Heck-Hitparade der 1970er erinnert. Roland Kaiser betritt zu einer 50-Sekunden-Version von eigenen Werken die Bühne, während ihn Simone Kermes in Kirmesmanier anmoderiert. Es folgt das zu erwartende Geklatsche, Geschunkel und eine Light-Show wie aus der Dorfdisko. Im gnadenlosen 4/4-Takt bohrt sich die Musik ins Ohr, während der Backgroundchor eine pfiffige Choreographie aus den verschiedensten rechtes-Bein-linkes-Bein-Variationen vortanzt. Die Arrangements sind vor allem laut: Es knallt, wummert, scheppert und klingelt, eine Kakophonie der guten Laune. Kaiser muss gegen die Kermes-Koloraturen standhalten, doch die Funktion des einzigen »Duetts« wird nicht ganz klar: Ist sie seine Stütze, die Stimmungsmacherin? Am Ende gibt es einen weniger enthusiastischen Applaus für Kaiser als für Kermes, und eine Ahnung macht sich breit: Sind die Leute doch für Kermes gekommen? Im Udo Jürgens-Medley singt Roland Kaiser gerne mal einen halben Ton neben dem Orchester und kommt trotz des Mikros nicht dagegen an. Doch da blitzt ab und zu etwas auf, das erahnen lässt, dass er mal ein großer Entertainer gewesen sein muss. So langsam er die Bühne betreten hat, so schnell ist er wieder runter.
Kermes rettet den zweiten Teil vor der völligen Belanglosigkeit: Mit Glitter and be Gay aus Bernsteins Candide ist die Showdiva zurück. Sie erzählt musikalisch und packt ihre subtile Komik aus. Wie passend, dass diese Arie den Virtuosenkult persifliert: Am Ende hat sich die Dramaturgie selbst ad absurdum geführt.